Practical Tips
You can reach the Venice airport from the US by connecting through an international hub, such as Frankfort or Brussels.
Speak to your hotel in advance about how you should arrive there with luggage. Our hotel had an entrance on the canal, so the water taxi from the airport made sense for us. There was no need to pre-arrange the water taxi, they are available right at the airport and offer door-to-door service. In 2010, the cost was 100 Euros, which was the cost for the taxi itself. For our party of four with all of our luggage, this was a very sensible way to arrive. (We arranged for a water taxi for the same price for our return trip, as well.)
The other alternative is the water bus. This is public transportation and will make a lot of stops. You will save money that way, but don't forget that you will need to carry your luggage from the stop to your hotel. One of my most enduring memories of Venice is middle-aged visitors schlepping their luggage down streets and over bridges.
Please be prepared for a city that is expensive. You will walk everywhere and go up and down bridges all day. If you are not physically prepared for that, then you shouldn't go there.
Dining
Antica Trattoria Poste Vecie, near the Rialto, was a favorite.
Hotel
We had an excellent experience at our hotel in 2010, the Palace Bonvecchiati in Calle dei Fabbri. This is in the San Marco area, but it also is not far from the Rialto area. The hotel was recently renovated and is fully non-smoking with modern amenities such as a fitness center. It is disability friendly. The rooms were large by European standards.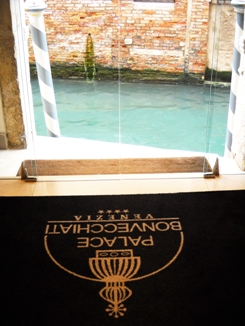 Water taxi entrance at hotel.