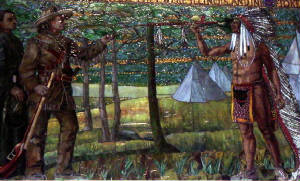 Marquette Building, 140 S. Dearborn. GTJ Photo.
Ornamentation can say a lot about the way that history was viewed during the time that the building was built. This mosaic was designed by the Tiffany Studio. The lobby of the Marquette Building portrays scenes from Chicago's history, both real and imagined, in a series of beautiful works. The building is from 1895.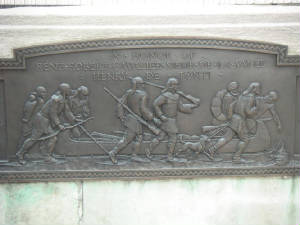 Historic marker, Michigan Avenue bridge over Chicago River. GTJ Photo.
Markers are scattered around the city that can help you to evoke another era, even though the traces of that era have been overwhelmed by our own age. This marker evokes the French explorers of the region. It can be found on the Michigan Avenue Bridge over the Chicago River. It says: "In honor of René Robert Cavalier Sieur de la Salle and Henry de Tonti."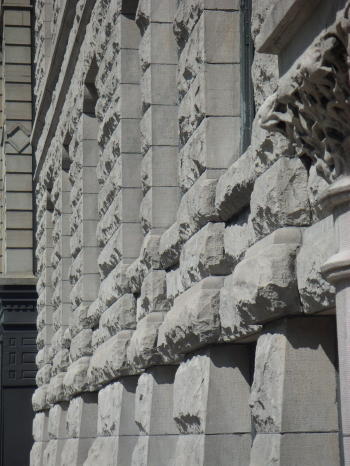 Former Criminal Court Building, scene of legendary trials. 54 W. Hubbard. GTJ Photo.
When you see an older building that has survived in Chicago's downtown, chances are there is a story. Courthouse Place, at 54 West Hubbard, is now an office building, but for 35 years, it was the old Criminal Court Building and the scene of many famous trials. Clarence Darrow often figured there, including in the famous Leopold and Loeb murder case. Ben Hecht and Charles MacArthur set much of their 1928 play, "The Front Page," in this building.
Try to find a way into the buildings that interest you.

It may not be possible to get past the guard station, but you often can see a lot even from there.

The staffs of buildings are usually flattered if you show an interest, even if they sometimes cannot let you in.

You will have no trouble entering the Fine Arts Building and can explore it top to bottom.

Don't miss this European-style courtyard café, which is part of an art gallery. At the right is an example of how you will be rewarded by looking into the lobby of the Rookery.
Gallery courtyard, Fine Arts Building. 410 S. Michigan. GTJ Photo.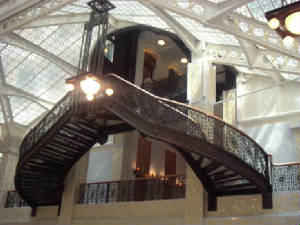 Rookery Building, 209 S. LaSalle. GTJ Photo.